GFI Backup – Home Edition: Free backup for home users!
This article is now 13 years old! It is highly likely that this information is out of date and the author will have completely forgotten about it. Please take care when following any guidance to ensure you have up-to-date recommendations.
Why should a home user backup? Most don't, most people just have their photos, music and video collection on a single hard drive, maybe an external drive or even a USB key. Unfortunately, no-one ever thinks about what they'd do if their drive were to fail, losing all their precious holiday snaps, their slightly embarrassing music collection, or perhaps their family finances. But stop and think for a second – can you really replace those holiday snaps? What about your music collection – do you want to spend 3 days importing all your CDs or DVDs? Or maybe your personal finance app – is that something you could afford to lose?
With my little preachy bit out of the way, I'll come to my point – GFI have released their own home backup software, and from what I can see, it's pretty good. Installation is dead simple, and then you're presented with your main screen: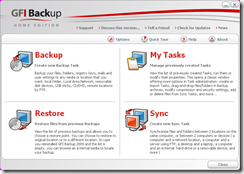 Simple enough, Backup lets you…well…backup, Restore, funnily enough, lets you restore, Sync is a handy tool for syncing data across several sources, and finally My Tasks lets you modify previously configured Backup, Restore and Sync tasks.
Backup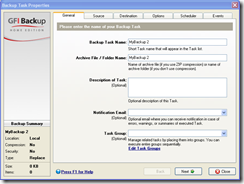 Configuring Backups is as simple as selecting What, Where and When – What do you want to backup? Where do you want to back it up to? When do you want to back it up? There are some nice features over the bundled-with-Windows NTBackup
email notifications
backup to an FTP site
backup registry keys
backup email applications
backup user settings (i.e. your AppData folder)
"stacked backup" that keeps versions of your data
zip compression
aes encryption
In my test the pre-scan element of the backup took a while, but the actual backup itself was pretty speedy. I backed up my website (about 3000 files, 10mb) in 54 seconds to an external USB drive.
Restore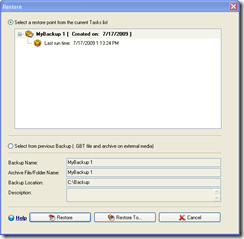 Restoring is just as easy, you can select to restore the entire backup, or individual files and folders. Both work well and are intuitive. I restored the same web folder back to my hard drive in an incredible 9 seconds.
Sync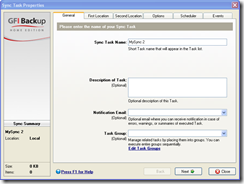 I've not tested comprehensively, but on the surface it looks like a great piece of home software, which I'll be using to do some off-site backups at home. And it's free, which means you can't go far wrong – nice one GFI!
Download GFI Backup – Home Edition here
Share this post