TESTING ACCESS TO YOUR EXCHANGE SERVICES WITH MICROSOFT EXCHANGE REMOTE CONNECTIVITY ANALYZER
This article is now 11 years old! It is highly likely that this information is out of date and the author will have completely forgotten about it. Please take care when following any guidance to ensure you have up-to-date recommendations.
The Microsoft Exchange Remote Connectivity Analyzer is perhaps the best tool I've used in a long time for troubleshooting Exchange external access – it just works! On the forums and websites I read, it doesn't seem to get the coverage that I'd expect, so I thought I'd give it a mention.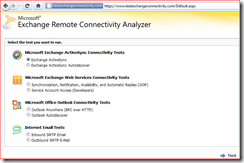 Share this post