vCenter 5.1 Single Sign On Multi-Site error: User credentials are incorrect or empty
This article is now 10 years old! It is highly likely that this information is out of date and the author will have completely forgotten about it. Please take care when following any guidance to ensure you have up-to-date recommendations.

While adding an additional vCenter Server to our Multi-Site Single Sign On instance I encountered a problem as I entered the details of the existing SSO.
The error thrown was:
User credentials are incorrect or empty. Provide correct credentials.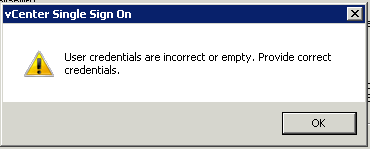 After a couple of hours online with VMware support I took a guess at the problem. On the existing Single Sign On Configuration I have added the Active Directory domain DefinIT and in order to enable integrated authentication from the vSphere Client I moved it to the top of the list - this meant that System-Domain is no longer the default authentication domain. The SSO admin account (admin@System-Domain) is a part of that domain and so my guess is that the installer tries to authenticate using [email protected] rather than System-Domain, which of course failed.
Moving System-Domain back to the top of the list allowed me to install correctly, and once finished I could drop it back down to allow integrated authentication again.
Share this post