London VMUG – July 2013
This article is now 9 years old! It is highly likely that this information is out of date and the author will have completely forgotten about it. Please take care when following any guidance to ensure you have up-to-date recommendations.
Yesterday I attended my second ever #LonVMUG and did my first ever VMUG presentation! Generally it was a great day, with loads of really good sessions and some really cool community and vendor content.
As ever it was great day for socialising and networking with people who you interact with on twitter. For me one of the major benefits of the VMUG is learning from other people's experience. Twitter was alive with the hastag #LonVMUG and it definitely adds something to the day to be active
Veaam – Modern Data Protection
I'll be honest here, this wasn't the most exciting session for me – I don't really do much in the way of backups in my current roles and so it didn't excite me. DefinIT's Simon (@simoneady) spent some time going over the new version of Veeam Backup and Replication that's soon to be released and he assures me it's pretty exciting:
Pernix Data – Frank Denneman
Quite simply this guy is in another league – the session focussed on use of SSD in the datacenter and the various approaches, and also Pernix's approach. You could have heard a pin drop – the audience was silent for 45 minutes and it's a credit to the sheer knowledge and understanding of the guy, and the way it was communicated. I was able to have a chat with Frank later on at the vBeers and he's a really nice, approachable guy. He also answered all of my questions with great ease.
Check out more about PernixData
SSO SOS – Steve Bruck and Stuart McHugh
This was a packed community session due to the "hot topic" of SSO, there's a lot of people who've been burned. There was some really good info in this session, though I didn't necessarily agree with all of their recommendations and I think that a lot of the problems they covered are no longer issues in the vSphere 5.1 Update 1. The guys did a great job covering the topics and kudos for taking on such a big one!
I sat out of the next session to get my head straight for my presentation, and to catch up with Simon.
My session – PowerCLI Tips and Tricks
How to evaluate my own performance?!
My lab didn't work as expected when I booted it up – there was only a 10m window to get set up and it just wasn't enough time to sort out the problem. Fortunately Alaric had given me some very sage advice and suggested I record some of my demos as a fall back in case this happened.
I was really pleased to have some good interaction and discussion with the session attendees, I think the questions asked hopefully indicated that I'd targeted it at the right level of information for the audience.
Overall I think the session went well, I got a little bit of feedback which was positive and was pleased to have people asking more questions at the end. I hope I glossed over the lab failure enough to keep the session interesting – thank God Alaric mentioned those videos!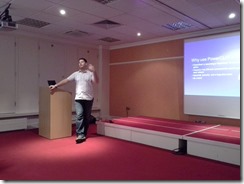 VMware – VXLAN - Aidan Dalgliesh and Kamau Wanguhu
This was a really in-depth session run by VCDX003 and VCDX010 – it's not often you get to pick the brains of two VCDXs in the same room! Again some really good content from people who know their stuff to a very high technical level. It was a nice surprise for a vendor session to feel like you're learning rather than being sold too!
I asked a couple of questions around VXLAN performance and security and was lucky enough to be given a copy of Simon Gallagher's new book for my trouble:
[amazon asin=1118180585&template=Iframe Image]
Your VMUG Needs You!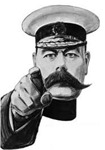 If you've been to a VMUG before I would definitely encourage anyone to have a go at presenting a community session – you'll surprise yourself. Pick a subject you know you're strong on and outline a session. Once you've done that send the outline to your local VMUG board and see what they say.
Getting ready for the session wasn't too bad, I mapped out what I wanted to say in bullet points, picked a nice PowerPoint template and created some slides. Then I planned out some lab scenarios to demonstrate and recorded them. After that I ran through it a couple of times to fine tune the content and make sure I was coming in on time – 45 minutes may sound like a lot of time but it's actually very hard to keep to!
Remember that you'll be presenting to your peers – they aren't going to be there to judge you, if you make a mistake or you stall then they aren't going to start heckling. I'm not someone who likes public speaking, in fact I feel like throwing up for an hour before, but it's well worth the effort and really not that bad! Remember it's a USER group – that means you!
(Apologies for the massively over-used image :))
vBeers and thanks!
Ending the day with a cold pint and more socialisation is always good – it's a great chance to get to know new people and chat – and…beer!
I want to say a massive thank you to Alaric (@alaricdavies), Jane (@rimmergram) and Simon (@vinf_net) on the London VMUG steering committee for giving me the opportunity to speak and present on PowerCLI – and for all the work they do organising these massively successful events. If you've not been to your local VMUG before then you should definitely find out more! http://www.vmug.com/index.php?mo=cm&op=ld&fid=217&gid=213
All the slides from the day are available here: http://box.com/londonug
Share this post