VMworld Europe 2013 – Day 2, VCAP5-DCD Exam Experience
This article is now 9 years old! It is highly likely that this information is out of date and the author will have completely forgotten about it. Please take care when following any guidance to ensure you have up-to-date recommendations.
Today was always going to be a bit of a funny day as I scheduled the VCAP5-DCD exam for 10am this morning. I am happy to say that I passed! I'm a bit light on VMworld to report today, so forgive my DCD experience to pad it out!
Preparation
I have to confess my prep for this exam was light – I literally only watched the TrainSignal course by Scott Lowe (@scott_lowe) and just about finished that last night in the hotel! I don't spend much time focussing on design during my day job, so I approached this exam as a bit of a learning experience rather than a serious bid to pass. I decided to book the exam here at VMworld just because you can get 75% off – if you're funding yourself it's not a discount to be dismissed easily!
Taking the exam
As with the DCA exam the DCD is a gruelling 4 hours, with 100 questions of which normally around 6 are Visio style designs. Again, same as the DCA, time management is massively important – I was actually so concerned with the time after running out in the DCA that I went probably too quickly and finished with 45 minutes to spare.
It's also a very wordy exam – you have to read a lot of text and pull out the relevant info. On the one hand you need to read it very carefully to ensure you pick up the right requirements etc, and on the other you really need to read as fast as possible to keep on track time-wise. The technique I used was to find out what they were asking me for first, and then scan back through the text for the relevant information.
The Visio style questions are a bit clunky, and I'd definitely recommend using the demo of the interface that VMware provide to make sure you're familiar with how it works – you don't want to do a "Gregg" (ahem @GreggRobertson5, I am looking at you) and delete your whole diagram by accident.
Resources
There are absolutely loads of exam experiences out there to read up on – just Google "VCAP5-DCD exam experience" (though, probably, that's how you ended up here). I used http://thesaffageek.co.uk/vsphere-5-study-resources/vcap5-dca-dcd/
TrainSignal (now PluralSight) – I am really lucky to have access to TrainSignal's library via the vExpert program, but it's such a good resource I'd definitely pay for it if I didn't. The course I used was Designing VMware Infrastructure.
I have also read Scott Lowe's Mastering VMware vSphere 5 which is a fantastic book, even if you're not going to do the exam. If you plan on buying it you could always use the links in my booklist page 😉
The rest of the day
After the exam I was pretty wrung out and needed a bit of time to recover – I'm still feeling the effects of the concentration now 3 hours later.
Hands On Labs
I spent some time doing hands on labs (HOL) this afternoon, specifically doing the vCAC v6 labs. I've been involved with the beta for "project nee" which is what the HOL were based on. The HOL infrastructure is huge here, with a full suite of desktops and a BYOD version. It's pretty slick – at the time of writing there are over 28,000 VMs created in over 3,100 labs.
Solutions Exchange
I braved the Solutions Exchange again after yesterdays car crash of a visit, determined this time that I would not let my badge get scanned by any pushy sales person. It was more tolerable this time, I got to the stands I was aiming for and was relatively un-harrassed.
I was happy to hand over my info to PernixData for a copy of the vSphere Design Pocketbook, especially as it's got a contribution from DefinIT's Simon Eady in it!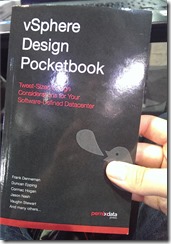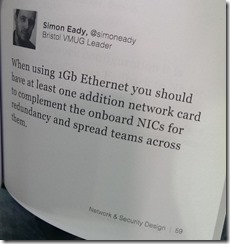 Networking
It's impossible to explain how good it is to be able to talk to so many really awesome people who I am honoured to call peers – It's great to chat with people who have similar goals and find out how and why they're doing the things they are. For me that's been one of the best parts of VMworld and I have learned at least as much through conversations with people as I have from the sessions.
Tonight is the VMworld Party, I am torn between going to that, and going to bed! Whatever I decide, tomorrow is a new day and I will be aiming to go to a few more sessions as well as keep on with the networking.
Share this post