VMworld 2014: Day Two
This article is now 8 years old! It is highly likely that this information is out of date and the author will have completely forgotten about it. Please take care when following any guidance to ensure you have up-to-date recommendations.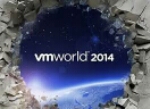 Day two of VMworld kicked off with a keynote session which traditionally includes demos of all that's new. It was a well presented session with a glimpse into the sysadmin's future with a demo of vCOps alerts popping up on Google glass. Since the sessions are available online I won't go into detail, but it was worth a watch (if you didn't watch the US one).
My morning consisted of preparations for the VCP NV (NSX) exam, which I detailed in a previous post. Very pleased to have passed what is a difficult exam.
As ever the networking aspect of VMworld continues to be the most valuable, meeting and chatting with some really clever guys. It always impresses me how many people are happy to give their time and expertise for the community.
One of my favourite things this year is the Destination Give Back initiative where VMware challenge you to make and throw a paper aeroplane, the further it flies the larger the donation to charity. You even choose which category the donation goes to, children, education, environment, human rights or women and girls. Over 140,000 Euros has already been pledged, with the majority going to children. It's interesting to see the choices donations, children get by far the most, with environment and human rights getting the least. One thing some people have said was why not just donate the money. My answer is that a huge part of charity fundraising is about
awareness and getting people to think about where the money is going is a huge benefit.
In the afternoon I attended my only technical session of the day, #NET1974 Multi Site Data Center Solutions with VMware NSX. This was a great session with some really practical information on designing NSX for multi site deployments. I found the comparison between how you deploy for Enterprise (typically low latency/high bandwidth intersite connections) and Cloud (typically high latency/low bandwidth) really useful, as well as strategies for using vSphere Metro Stretched Cluster for low latency sites with stretched L2 networks, Enhanced vMotion for low latency sites with multiple clusters, and NSX's Layer 2 VPN for sites with higher latency. There was also a massively useful section on DR for NSX using SRM.
In the evening was the VMworld party, featuring Simple Minds. Unfortunately I think VMware shot themselves in the foot having made a big deal of how they are promoting women in IT, but had some fairly provocative shadow dancers around the hall. Clearly not a joined up message, as I mentioned on twitter, you can either value women or objective them, but not both.
Share this post