Updating Cisco SG300 firmware the command line way
This article is now 8 years old! It is highly likely that this information is out of date and the author will have completely forgotten about it. Please take care when following any guidance to ensure you have up-to-date recommendations.
<img class="alignright wp-image-5603 size-medium" src="/images/2015/02/cisco_SG300-20_1.png" alt="Cisco SG300-20" width="300" height="180" of upgrading my lab switch, which is the excellent Cisco SG300-20, I've not had a chance to update the firmware since it was released 6 months ago because of the downtime. For some reason I prefer configuring the SG300 from the command line - a hangover from my old networking days I suppose, but somehow it doesn't feel right to me to use the GUI!
I found an article by Chris Wahl which ran through the steps required to do it via the GUI. If you're only interested in doing the update, then I suggest following Chris' article - otherwise follow me for some CLI goodness!
Download the latest firmware from Cisco (at present -
Note: You can't go directly from version 1.1.2 to 1.4.0.88 - you have to use 1.3.7.18 as an intermediate update
You need a TFTP server set up - I like Open TFTP Server but there are plenty of other free ones around - just unzip the firmware package from Cisco and place the two files (.ros and .rfb) in the TFTP root. It's worth noting that the rfb file is a boot image, and the ros file is the firmware image.
It's a pretty good idea at this point to back up your switch configuration and current firmware/boot image. Also, your switch will reboot a couple of times during the process so make sure nothing important is happening on the network - I shut down my whole lab environment.
Open a PuTTY session to your SG300 and use the below command to update the boot image first:
copy tftp://<tftp server/path/to/bootimage.rfb boot

Use "sh ver" to check that the Boot version is now correct:

Note: You can't go directly from version 1.1.2 to 1.4.0.88 - you have to use 1.3.7.18 as an intermediate update
Use "wr" to ensure you current running-config is saved to startup-config and then "reload" to reboot the switch.
Once the switch has rebooted, SSH back in and upload the firmware package:
copy tftp://<tftp server/path/to/firmware.ros image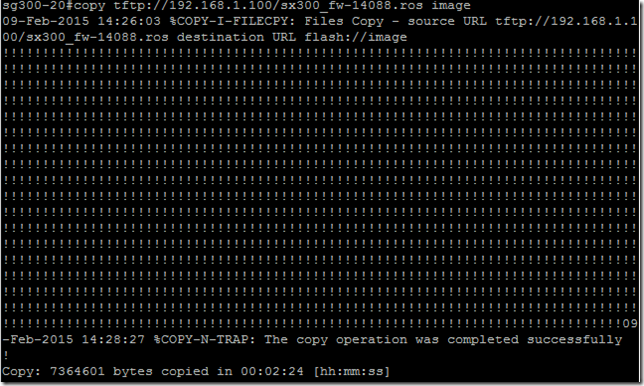 Now the image has been copied to flash but is not yet active, use "sh bootv" to list the versions available:

Check which filename is the new version and "not active" and then use the following command to activate it next boot:
boot system image-2
Once again, "wr" and "reload". When the switch comes back up you can check it's using the new firmware:

Share this post