#VMworld2015 – Day 2
This article is now 7 years old! It is highly likely that this information is out of date and the author will have completely forgotten about it. Please take care when following any guidance to ensure you have up-to-date recommendations.
The first full day of VMworld after PEX was a busy one.

After the keynote (highlights were the docker announcements) I was on "booth babe" duty at the VMUG lounge. It was great to meet so many folk who were existing VMUG members and leaders as well as prospective new members. If you are at VMworld this year you should definitely stop by!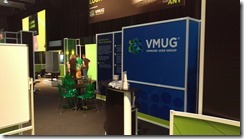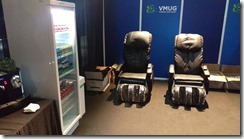 After lunch I hit the solutions exchange to catch up with a few vendors whom I had a few queries for also took the time to collect the #vExpert hoodie from @simplivity and the #vExpert tile from Tegile (thank you!) Suffice to say it was very busy and naturally noisy but judging by the many happy faces of people with various items of "swag" under their arms things were going well!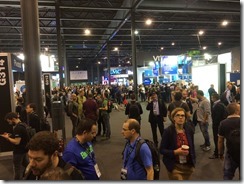 The only session I was booked in for was the "5 functions of software defined availability" presented by Frank Denneman and Duncan Epping, naturally the session was excellent but perhaps wrongly I was hoping for more of a deep dive on the content as a good deal of the content seemed to be geared to folk who were new to the subject matter, if naught else it was an excellent refresher.
After the session I had the pleasure to meet Steve Flanders @smflanders who had just wrapped up his vbrownbag session on Log insight so it was great to not only listen about but also discuss the product.
To finish the day I headed out to Goucho's with my fellow blogger @sammcgeown here at Definit for a beer and a good meal!
All in all today was excellent and tomorrow promises to be even busier!
Share this post