DEPLOYING TO AWS WITH SOFTWARE COMPONENTS ON VREALIZE AUTOMATION 7

Recently I've been working on some ideas in my lab to leverage the AWS endpoint on vRealize Automation. One of the things I needed to get working was getting Software Components working on my AWS deployed instances.
The diagram to the right shows my end-stage network - the instance deployed by vRA into AWS should be in a private subnet in my VPC, and should use my local lab DNS server and be able to access my vRA instance. This allows me to make use of the vRA guest agent for software components on the deployed VMs. I also wanted to have the deployed VMs use their local NAT gateway for internet traffic, rather than paying for the data over my VPN connection.
Configure a VPN connection
As I wrote in my previous article, the vRealize Automation Guest Agent requires a connection back to the vRealize Appliance in order to be able to receive tasks. Make sure you have a VPN connection configured and you can communicate back and forth with your internal network.
Create DHCP Option Set
A custom DHCP Option set allows you to specify the DNS domain name and DNS servers that are set by the DHCP server when handing out IPs to your Instance. It's needed here because the vRA Guest Agent will need to use my lab DNS server to resolve my lab vRealize Automation deployment.
VPC -> DHCP Option Sets > Create DHCP options set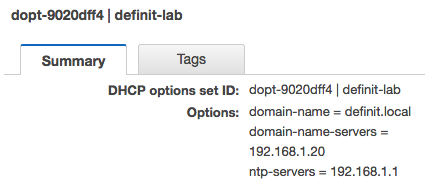 Assign DHCP Option Set to VPC
Assign the newly created DHCP option set to the VPC so that it's used whenever an Instance is deployed.
VPC > Your VPCs > Action > Edit DHCP Options Set

Launch a new AMI and prepare for vRealize Automation
Test DNS resolution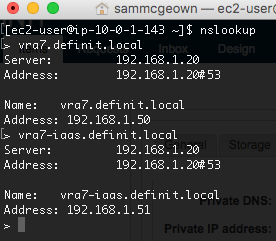 Download and execute the template script:
Create a custom AMI
Configure vRealize Automation
Requesting the Amazon Blueprint
Share this post