Announcing Part 2 – #vROps Webinar series 2017 – "Full Stack" monitoring with vRealize Operations Manager
This article is now 6 years old! It is highly likely that this information is out of date and the author will have completely forgotten about it. Please take care when following any guidance to ensure you have up-to-date recommendations.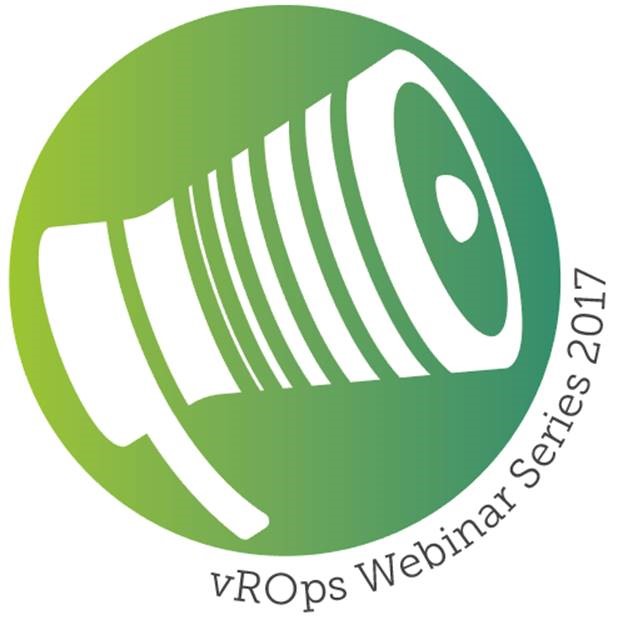 As promised, vROps Webinar Series 2017 is back with the second episode of the year. Last time around we looked closely into the features of vROps 6.5 and as stated during that webinar, we will now show you how you can unlock the full capabilities of vROps using the extensibility of the platform.
If you have been following the Webinar Series, by now you have a complete visibility into the capabilities of vROps, when it comes to monitoring the vSphere infrastructure. While this infrastructure is important for the IaaS provider, what business cares about is Applications. The good news is that vROps provides you an extensible platform which can be leveraged to extend the product capability into any area where metrics exist. This could be at the layers of your Software Defined Datacenter such as Compute, Network & Storage, or in the Application Stack and it's tiers such as App, Web and DB.
While VMware provides a number of plugins which allow you to extend the platform capabilities into applications, they also leverage strategic partners such as Blue Medora to provide you with management packs which can go deep into applications to complete the "FULL STACK VISIBILITY" which is required in any IT shop.
To discuss this topic in detail and to bring life to the concept of FULL STACK VISIBILITY, joining Sunny and me will be Craig Lee and Brock Peterson from Blue Medora.
Here are the use cases we will cover during the session:
Use Case 1 - Full-Stack vSphere Monitoring
We will demonstrate covering the "Full-Stack" with going from the Oracle Database query level, through the application stack, down to the Netapp SAN's disk that the VM is running on.
Use Case 2 - Amazon RDS Workloads
You can monitor your, no matter where it lives. vROps can be extended to monitor other platforms hosting your production applications. In this section, we'll demonstrate monitoring Amazon RDS hosted production databases within vROps .
Use Case 3 - Extensions to vROps
vROps can be extended in a variety of ways, including Management Packs, Loginsight, EndPoint Operations agents, and vRealize Business Suite. We'll walk through what the various extensions means in terms of functionality. Finally, we'll show how all of these are available via the VMware Solutions exchange and where you can start to customize your environment.
Special thanks to Blue Medora for participating in the Webinar Series and contributing to the vCommunity.
**Here are the details: **
Session Title
<td width="403">
  <a href="https://www.definit.co.uk/2017/04/announcing-part-2-vrops-webinar-series-2017-full-stack-monitoring-with-vrealize-operations-manager/"><strong><u>Part 2 - </u></strong><strong><u>"Full Stack" monitoring with vROps</u></strong></a>
</td>

Date
<td width="403">
  <strong>Tuesday, 9th May 2017</strong>
</td>

Time
<td width="403">
  <strong>1:00 PM to 2:30 PM Pacific Time</strong>
</td>

Speakers
<td width="403">
  <strong>Craig Lee & <a href="https://twitter.com/bpatbluemedora">Brock Peterson</a> (from <a href="https://bluemedora.com/">Blue Medora</a>)</strong>
</td>

Webinar Link
<td width="403">
  <strong><u><a href="https://vmware.webex.com/vmware/j.php?MTID=mfe36515340627e1040c8a22a5a626762">Click here to join the meeting</a></u></strong>
</td>

Save Invite
<td width="403">
  <strong><a href="https://app.box.com/s/ptr4ran9elcycobliecooy31dwrk0t39">Click to save invite </a> 👈</strong>
</td>

See you at the Webinar!!
Share this post