vRealize Operations 8.1 - What's New
This article is now 3 years old! It is highly likely that this information is out of date and the author will have completely forgotten about it. Please take care when following any guidance to ensure you have up-to-date recommendations.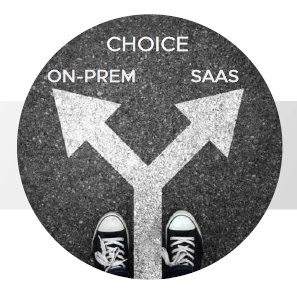 VMware have been very busy in the last few months across many of their products and Operations Management has not gone untouched. We saw glimpses of things to come late last year and now we see the Cloud Management Team in VMware really ramping things up with vRealize Operation 8.1
vRealize Operations Cloud
One of the bigger items to arrive very shortly is vRealize Operations Cloud (SaaS), this means you do not need to worry about standing vROps up in your environment to see what value it can bring to your infrastructure monitoring. It has the same feature set and UI as the on-premises offering.
If you are already using vRealize Automation Cloud you can integrate it with that also.
There is Native Integration with the following.
vRealize Automation Cloud
vRealize Log Insight Cloud
VMware Cloud on AWS
Skyline Advisor
As I understand it you can trial vROps Cloud for 30 days (for free)
vRealize Operations 8.1
I am certain it has not escaped your attention that vSphere 7 is just around the corner and that VMware are highly invested in Kubernetes. vROps 8.1 gives you immediate support for vSphere with Kubernetes, in the following screen captures you can see to what extent vROps now supports the new vSphere Features.
vROps 8.1 Environment Tab has been updated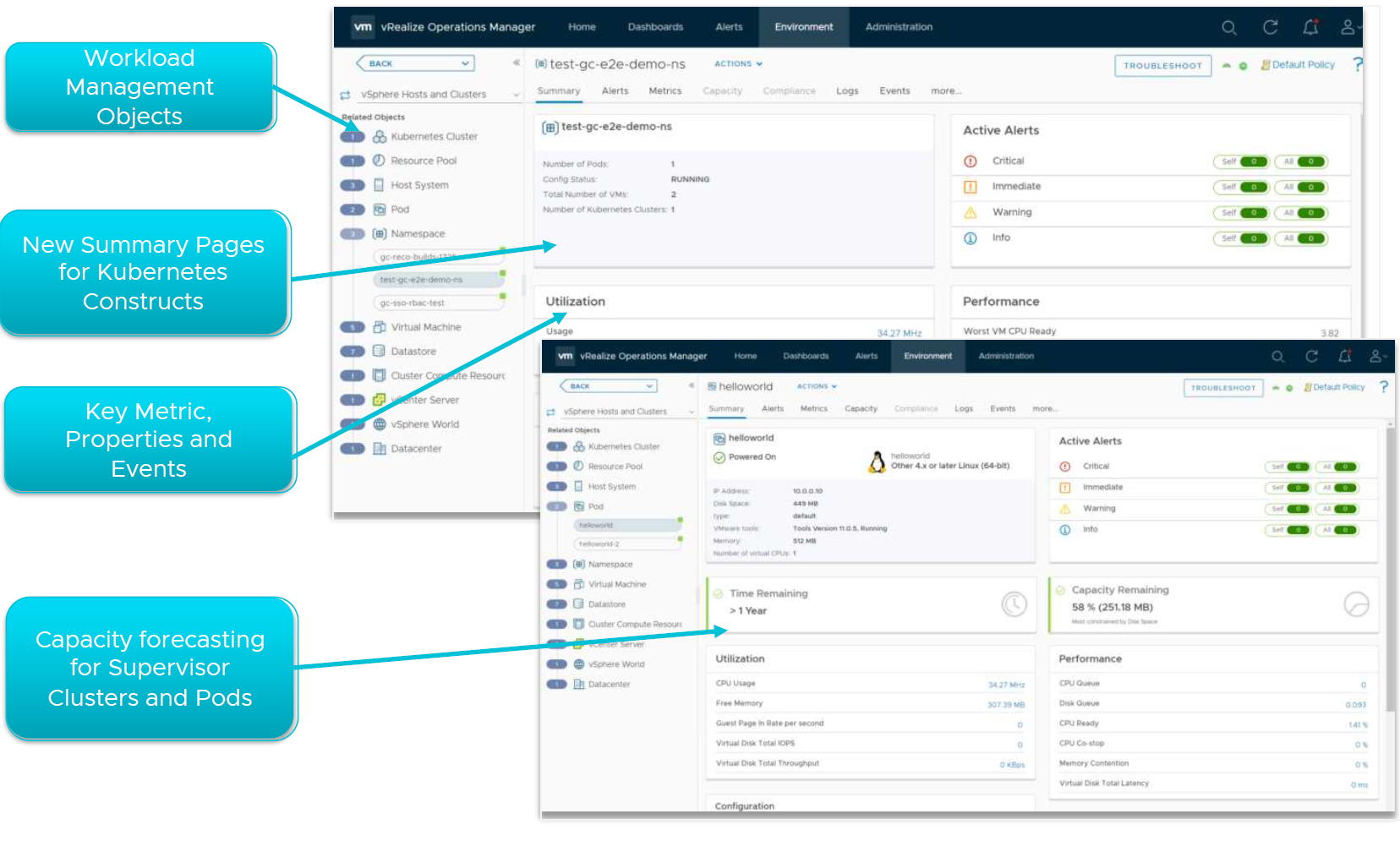 vROps vSphere K8s Overview
You can also utilize vROps powerful Capacity Management features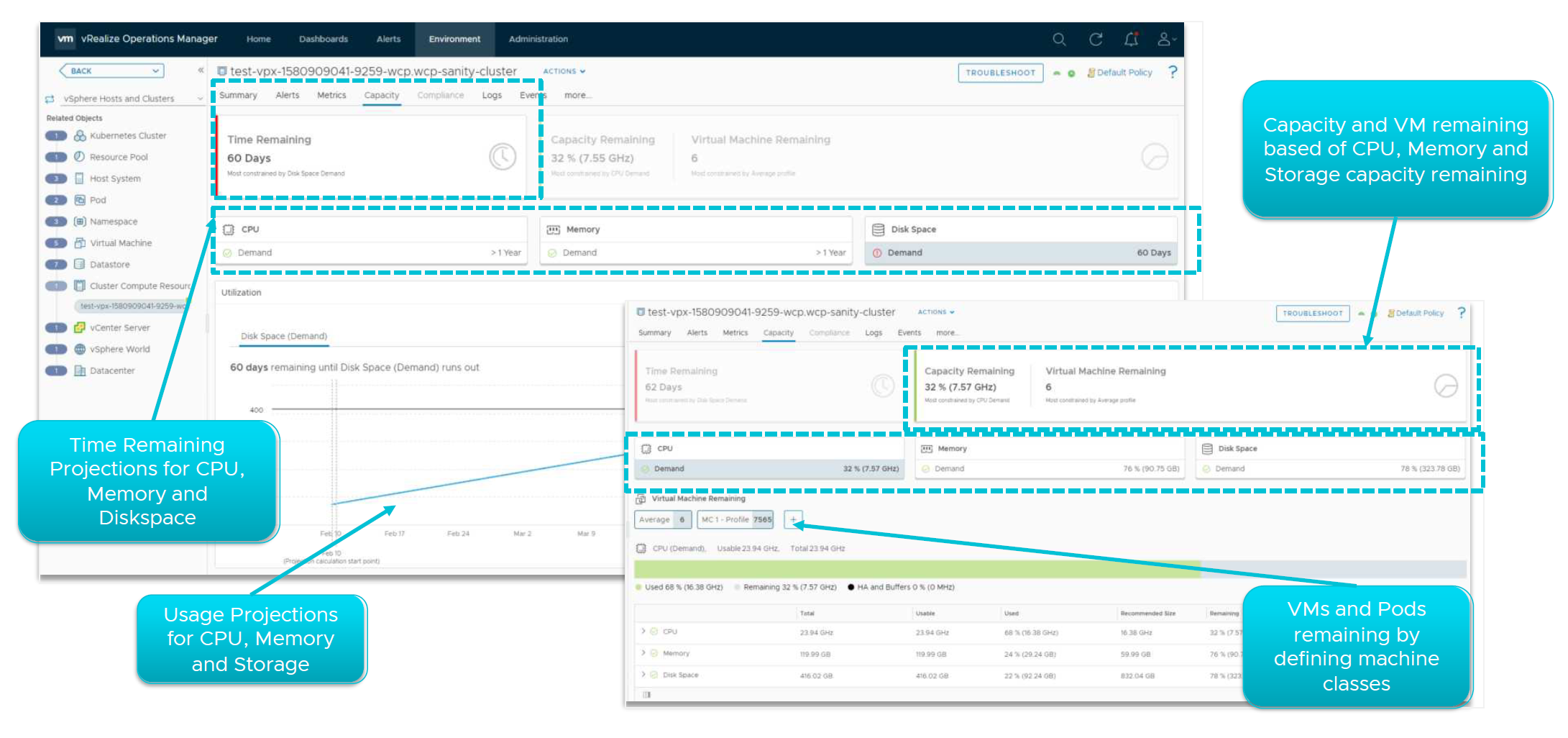 vROps vSphere K8s Capacity Management
A very elegant Unified dashboard for the inventory. relationship and KPIs has been included.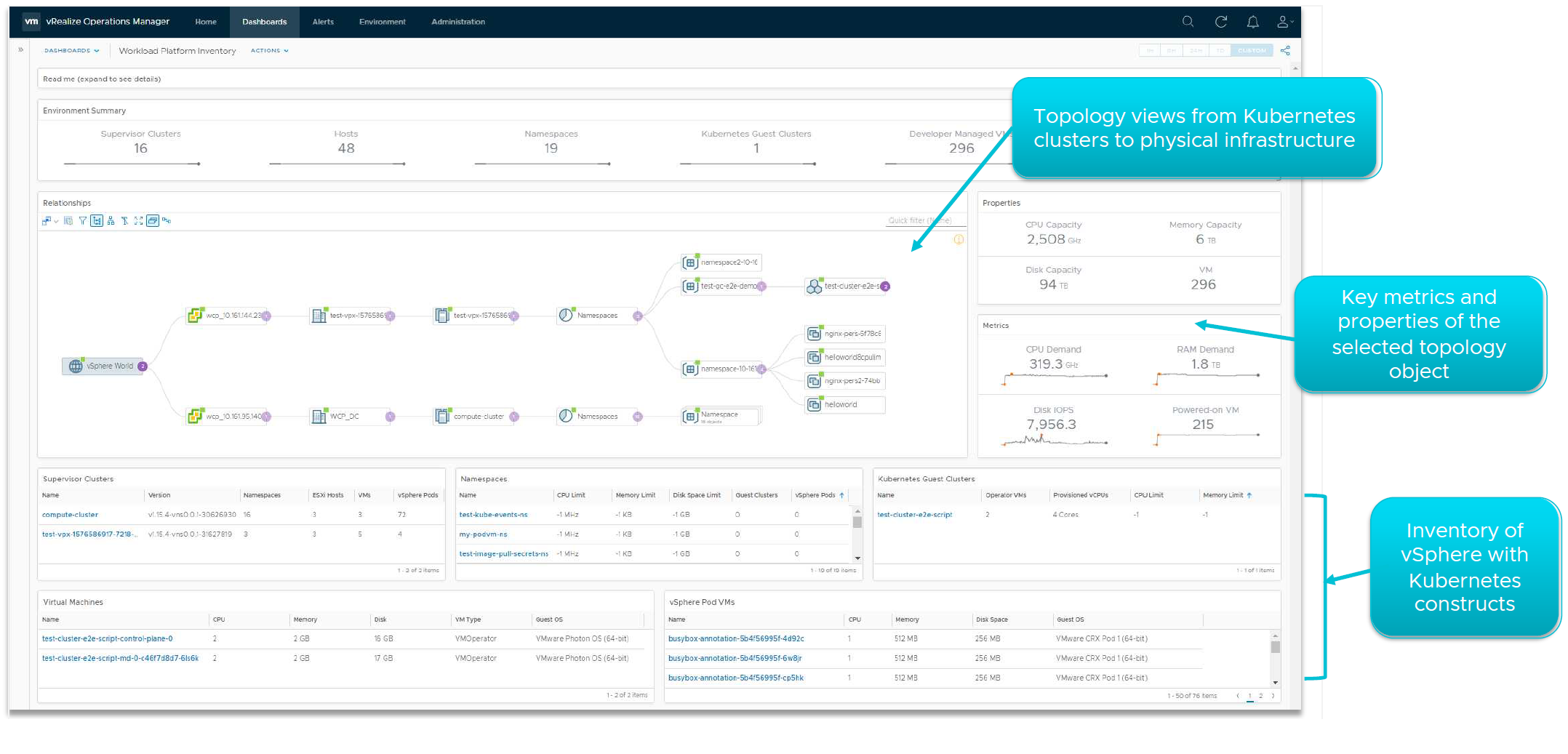 vROps vSphere K8s Relationship Dashboard
Also included in the support for vSphere 7 (Kubernetes) in the vROps 8.1 release are the following items.
Workload Management Dashboard
Workload Management Reports
Workload Management Alerts (OOTB Alerts for Pods and Supervisor Clusters)
A new Container Management Pack (for Kubernetes), so even if you aren't running vSphere 7 but have Kubernetes you can now effectively monitor those Cluster, Nodes, Pods and Containers.
Multi-Cloud Monitoring
Also in this new release of vROps 8.1 there is native support for monitoring VMware Cloud on AWS. This will give you the following really useful features and functions.
VMC Dashboards
VMC Cost Overview (to help you better manage your costings and usage)
VMC Networking Overview (NSX-T) - VMC and Policy Manager API Support
Enhancements to the Public cloud migration planning feature
Amazon AWS with new AWS Objects
Subnet
EFS
Elastic Beanstalk
Direct Connect Gateway
Target Group
Transit Gateway
Internet Gateway
Elastic Network Interface (ENI)
EKS Cluster
Support for the Google Cloud Platform.
Compute Engine
Container Engine
Cloud Storage and Data store
Firebase
Cloud VPN
Cloud Functions
ML engine
Cloud Billing
Cloud Logging
Google Cloud Traffic Director
There is now also Cloud Health Integration for GCP
Any Slice and Dice of MTD in vROPs using "Perspective" sync from CH
GCP Cost collection
OOTB Cost Dashboards for GCP
What else?
DISA and CIS Compliance Packs have been refreshed.
New VxRail Management Pack
Integration with vRNI
Support for vVols
Rate Card based pricing for vRA 8.1 Managed VMs
Newly redesigned vSphere Optimization Assessment
Summary
With every release the Cloud Management Team in VMware keep improving and refining vRealize Operations Manager. I have long been a fan of the product and I am glad my faith in the product feels well placed as it keeps goes from strength to strength. The level of effort put in by the team to fill gaps while also endeavoring for feedback from their customers is really quite impressive.
If you have not yet checked out vROps you don't even have to have it deployed in your environment anymore. Why not check out the SaaS offering? It is clear vRealize Operations is a product VMware take seriously and it is continuing to take a center place in their monitoring and management strategy.
Share this post