How to become a vExpert - application tips
This article is now 3 years old! It is highly likely that this information is out of date and the author will have completely forgotten about it. Please take care when following any guidance to ensure you have up-to-date recommendations.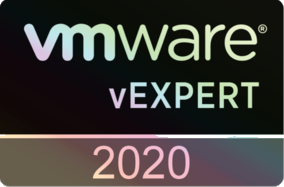 In the most recent round of vExpert sub-program applications, I was asked to help review applications for the vExpert Cloud Management track. As part of the CMBU and a long-standing vExpert it made sense for me to help out, and I was happy to do so. I reviewed ~60 of the applications that were in my area - automation. The experience was an eye-opener. What follows is a distillation of what (not) to do when you're writing your application.
Be kind to your reviewer. When they look at your application, they are looking for content - pure and simple. What have you generated in the last 12 months that will make you a good candidate for this program.
Submit public content - if you've not put publicly available content in your application, then there's nothing to review, and you'll get rejected. If you spoke at an event, link to the schedule.
Include direct links to the content - yes, I know, it's a pain to find it all and copy/paste those links - but your reviewer has a lot of applications to review, are you expecting them to go find it?
Submit content from the time period - as great as that blog series on vCAC 6.x was, it doesn't qualify you for this year's application!
Submit your own content - if you're re-posting a corporate marketing stream, or someone else's content it doesn't qualify you! As someone who generates content (and has that content stolen) it irks me when I see it happening.
Submit relevant content - if you're applying for sub-program, make sure you submit content for the products that are included in that program
Metadata

If your content is not searchable then it's up to the reviewer's discretion as to how long they spend looking for your content
If you have no tags, no categories, no date and no author attribution on your content, it's much less likely to be found and counted

Don't lie - I can't speak for other reviewers, but an outright lie switches me off your application straight away. If you say you're active on twitter, but the last thing I can find is a cat picture from 2018…
Of course, your application reviewers are human and can make mistakes - if you've got a rejection email it should tell you why your application was rejected. If you think that you have been wrongly rejected, it will detail how to appeal the decision. If your rejection was fair, then don't give up! Step up the content generation, speak at your local VMUG (pandemic notwithstanding), get involved with the community and gather your (publicly avaialble) evidence!
You can also reach out to the vExpert Pro in your region for help and support getting into the program, or reach out to an existing vExpert who will be more than glad to help.
Share this post