Looking forward to VMware Explore - the artist formerly known as VMworld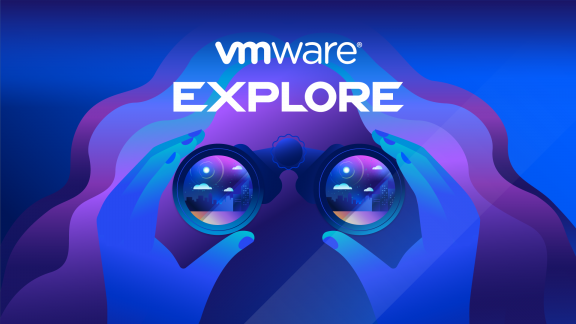 It's hard to believe that my first VMworld was almost 9 years ago! I feel very blessed to have attended in 2014 (EU), 2015 (EU), 2016 (US), 2017 (EU), 2018 (my first as an employee), 2019 (my first time as a speaker!), and virtually in 2020 and 2021.
Over the years VMworld has been hugely formative in my career, I've talked many times before about how the trajectory of my career really took off when I got involved with the London VMUG, and how that led to being awarded vExpert in 2013. Through the vExpert programme, I got my first blogger pass for VMworld, and from there the networking opportunities led to certification, career advances, and ultimately making the contacts (and friends) that got me in the door at VMware. It's hard to overstate how much VMworld has helped over the years.
Now, in the post-pandemic world of 2022, VMworld has been re-branded to VMware Explore. As with most veteran VMware fans, I think the name VMworld holds a special place for me - I understand that VMware needs to address and include a new audience and re-branding is one way to do that - but VMworld was an excellent name for an event. I hope that the changes end up being a positive and VMware Explore introduces a whole new audience to the opportunities and people that VMworld did for me.
As always, I'm excited about the new stuff that will be announced at VMwor…VMware Explore (it's going to take a moment to get used to that!) The fact that I work "behind the curtain" now doesn't diminish the excitement, I can't wait to see what our customers think of what we've been working on for the last year or so!
Seeing people face-to-face since the pandemic has been a bit…wierd. I went to KubeCon EU earlier in the year and found it to be a bit of a shock to start with. But I also massively missed the networking opportunities - meeting people I haven't seen for literally years, and walking through a vendor hall talking with startups about their cool new technology or ideas. It's an introvert's nightmare (I finish the day exhausted) but it's massively rewarding. If you're heading to Explore I would strongly encourage you to say hi to everyone, chat to the vendors and come say hello if you see me!
This year I'm excited to be presenting a session with Matt Bradford - Total Kubernetes Management with vRealize Cloud [CMB2220US] in which we look at all the ways our cloud management products can help you master your Kubernetes clusters! If you're going to be there, come along and heckle listen! I've not been through the content catalog yet (639 sessions) to pick a top 10, I might drop another post nearer the time with some recommendations.
Are you planning on attending Explore? I'd love to hear what you think of the name change, what sessions you're looking forward to, and how you feel about a face-to-face event of this scale in the COVID era!
Share this post